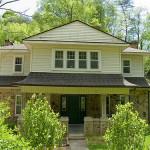 Need to increase the value of your home but don???t have much money? Start here for some ideas to get you started!
From the article:

Are you looking to increase the value of your home while staying within your budget? Full remodels, even for one room, can cost many thousands of dollars, and while the cost may be worth it if you're planning on staying put, most remodeling projects increase your home's value by at most 80 or 90 cents for every dollar you invest. If you're looking to sell your home right away, or if you're buying and selling a home for profit, you want to keep your improvements simple and cheap. Here's how.

Clean and Declutter Your Home
1. Do a basic cleaning
2. Get rid of clutter
3. Do a deep clean
4. Eliminate odors

Easy Do it Yourself Projects
1. Spruce up the yard
2. Add a fresh coat of interior paint
3. Put up fresh curtains and blinds
4. Install modern light switches and outlet covers
5. Up the wattage
6. Check the square footage
7. Add wood trim and cornice for a cheap and easy do it yourself idea that can add tons of wow factor to the look of your home
For all of your dryer inspection needs look no further!
To view the entire article click here: http://www.wikihow.com/Increase-the-Value-of-Your-Home-Inexpensively